Brünhilda - Blog
Home to the latest updates and stories on the life of Brünhilda. Written in similar fashion to my modelling updates with the newest entry at the top, only this time with an easy and accessible archive section on the right-hand side (or via the button below for your mobile devices). Click on the title of any post you'd like to visit and it'll take you straight there, and if you're here for the latest update, simply scroll down to the first blog entry you see.
---
The launch of Project C.A.R.™
30 Mar. 2020 | Stougthon, UK | By Niek Nijsen
The biggest news you may have already seen on the various social media channels and the website, is that I've launched the teaser video of "Project C.A.R.", which stands for "Classic Automobile Restoration" and will encompass all work related to the restoration of Brünhilda in many free-to-watch episodes over the coming months. If you haven't seen it already, the teaser can be seen here:


Alongside the teaser was the launch of the introduction video, which explains the concept of Project C.A.R. in more detail, including the future planned teaching series. The latter currently still in its concept phase, it will provide more detail on how to restore your car from your home garage, many tools and documents to members that will help you with your restoration project, including planning tools, expense & inventory trackers, maintenance overviews and much more. This particular video is located at the top of the "Brünhilda Video Page" and the "Project C.A.R." playlist on YouTube, but for easy viewing it's also included in this particular blog update: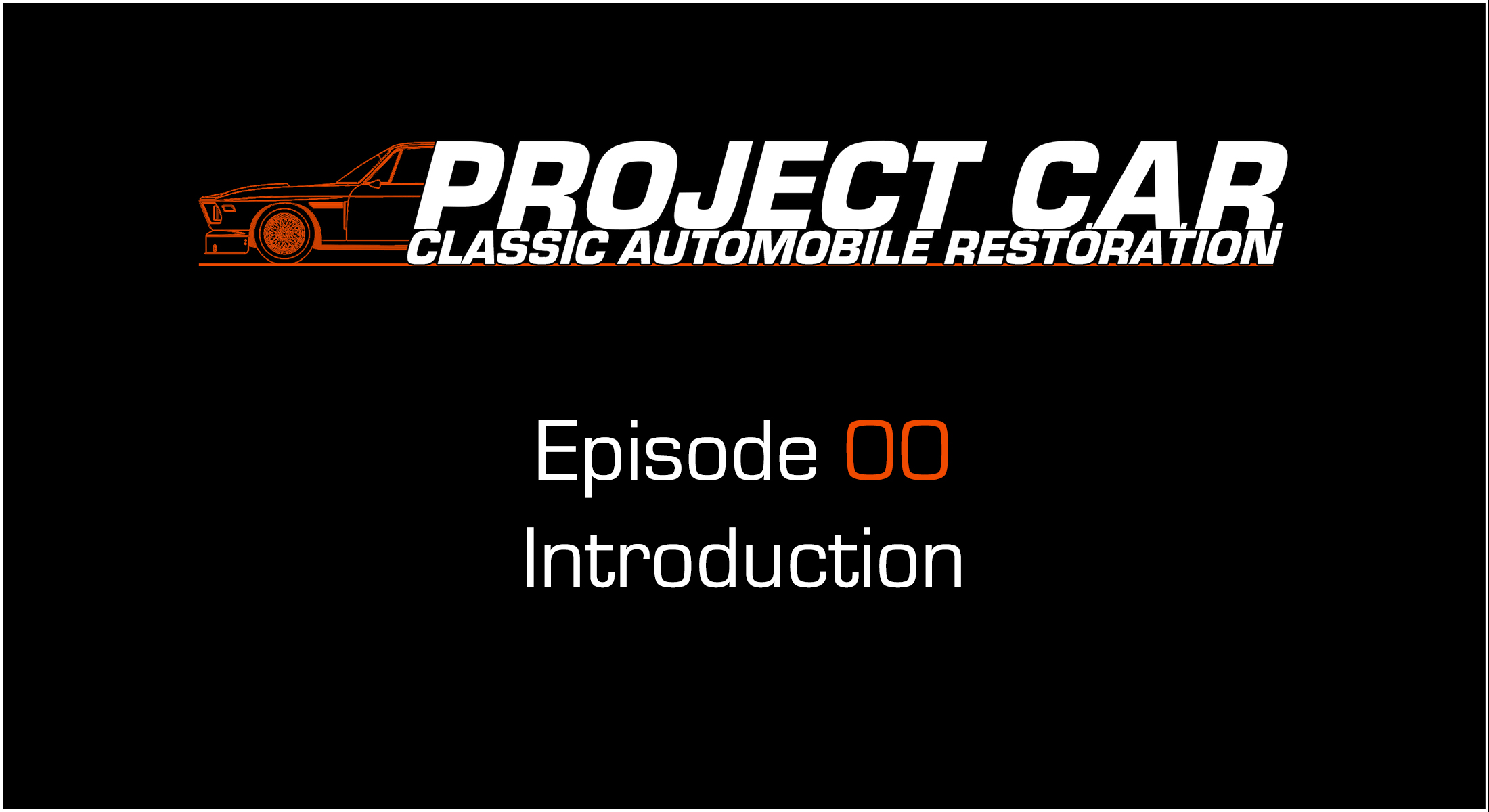 While I spend a lot of time at the computer editing these videos, and even more recording them (a total of 49 attempts before I was happy), I've been busy preparing the garage for the work to start. With a small area to work in, smart organisation of the available space is a high priority. I've finally installed the missing shelves between the toolbox and shelving unit, and I've installed a compressed air system that provides me with a connection point on both sides of the garage. Full details of this can be found in the Garage Prepartation gallery which will be avauilable soon.

Last but definitely not least, I've ordered a new camera (GoPro Hero8), which allows me to record in 4K definition as well as live stream in HD quality. Now I'm still working with my usual HD cameras and the first mini episode in which I prepare the car for restoration is currently being rendered. This episode holds a big surprise for us all, where it turns out the car has been housing quite a few little friends over the winter (whom clearly paid the rent in an unusal fasion)…

As you can see, plenty has happened over the last few weeks and there's a lot more to follow in the coming months. If you haven't already, make sure to subscribe to the social media channels and newsletter.
---
Home at last
01 Jan. 2020 | Stoughton, UK | By Niek Nijsen
Brünhilda is home. It's been a long time coming, but I've finally been able to move her to the newly prepared garage. Over the last two years a lot has happened in the background, which all began with the original move to the UK a few years ago. On the 13th January 2018, mum & dad brought her across on a trailer from her long-term storage back in The Netherlands. Dad and I had been working on restoring her for quite some years earlier (back in 2007), but all came to a halt when I moved to the USA in 2011. She's been gathering dust ever since. As I didn't have a garage to store and work on her yet, a family member offered their garage for temporary use.

I slowly began working away at the list of things to do, primarily sorting out the wiring and rebuilding the interior. Progress was slow and difficult, as I had limited knowledge about the car and as a result spent most of my time staring at her trying to figure out what to do. It wasn't until Christmas 2018 when I reached a big break through. Together with dad we got the engine running again, after a 12-year silence. To our surprise only a few attempts with easy-start fluid were needed in order to get her roaring. I must say she sounds loud, although it might have something to do with the fact that the exhaust hadn't been connected yet. Either way, it was like music to our ears, and we were very happy to say the least.

The months that followed I finished the interior and elected to remove the LPG tank that was fitted in the booth. The main reason for this is the fact that there's hardly any LPG available in the UK, and we'd be carrying a lot of dead weight around during rallies. The decision was made to remove the installation all together. As a result, a lot of holes which allowed hoses and bolts to go through the chassis were now open and uncovered, prime areas for rust to fester. All restoration work came to a grinding halt, again.

Many months passed, as dad and I decided on what to do. Eventually we elected to start over, back to square one with a full bare metal restoration. It would be the best base for what we had in mind, participating in classic car rallies. A lot of modifications will be required in order to prepare the car as best as we can, including the fitting of a roll cage, so the new approach will lend itself perfectly for this. The next step, however, would mean work needed to be done to the garage at my new home, which we owned since August 2019. We began by modifying the roof support structure in order to fit a two-post car lift and allow it to go to full height. Next we build a desk and various storage facilities that would hold all the parts during the restoration process. Although not completely finished, Brünhilda was moved from her current storage to the new garage on the 15th November 2019. With a bit of luck, I'll be able to finish the garage over the next few weeks and the restoration process can finally begin.

To kick off the project and as a bit of a motivation boost, dad and I went up to GSM performance in Nottingham to try new seats on 24 November 2019. We tried many different types and shapes and eventually our choice fell on the Rev II seats with matching 4-point harness, both by Sparco. Can't wait to get these fitted!
---